Slowing Down Myopia Progression
Myopia, also referred to as nearsightedness, is a vision condition that makes distant objects appear blurry while close-up objects remain clear.
Around 30% of Americans are affected by myopia. Through comprehensive eye exams, we can help slow the progression of myopia.
Contact us to book an appointment and begin the myopia control journey with your children today.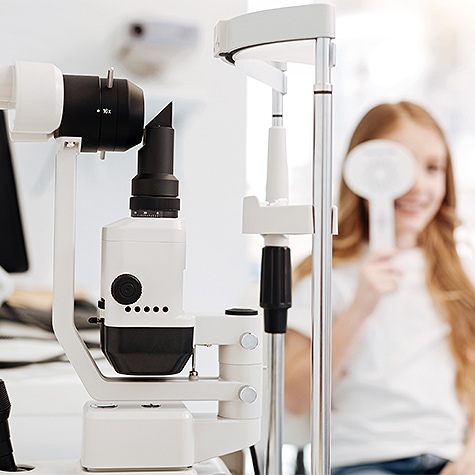 A Closer Look at Myopia
Myopia can develop slowly or quickly and can worsen from childhood through adolescence. Myopia occurs when the eyeball is too long, or the cornea is curved too steeply. As a result, the light that should focus on the retina instead focuses in front of the retina and makes distant objects appear blurry.
Common signs and symptoms of myopia can include:
Blurry vision when looking at distant objects
The need to squint frequently to see
Excessive blinking
Eye strain
Frequent headaches
Regular eye exams can help our team stay on top of your child's unique visual needs and keep developing myopia in check. Myopia Management at Experts on Sight
At Experts on Sight, our goal is to help your children see clearly and slow the progression of myopia. Our team uses various myopia control methods to help us achieve that goal and provide the vision care your children deserve.
Multifocal Contact Lenses & Glasses
MiSight 1 day Contact Lenses
MiSight 1 day contact lenses are soft contact lenses that are clinically proven to slow the progression of myopia in children between 8 to 12 years old at the beginning of treatment.
MiSight lenses work by slowing the elongation of the eye caused by myopia and are easy to use for age-appropriate children and are available as a daily disposable for convenient usage.
Keeping up with Your Children's Visual Development
At Experts on Sight, our mission is to allow our patients to see as clearly as possible. Your child's visual development is crucial, and we strive to provide effective myopia control solutions to help them see clearly.
Contact us to schedule an appointment today and get your children the vision care they deserve.

Gilbert
We're located just off Lindsay Road in the San Tan Professional Village, with plenty of parking out front. If you have trouble finding us, please give us a call.
3303 South Lindsay Road, Suite 101

Gilbert

,

AZ

85297
Hours of Operation
Monday

:

9:00 AM

–

5:00 PM

Tuesday

:

9:00 AM

–

6:00 PM

Wednesday

:

9:00 AM

–

6:00 PM

Thursday

:

8:00 AM

–

3:30 PM

Friday

:

9:00 AM

–

5:00 PM

Saturday

:

Closed

Sunday

:

Closed
Mesa
Find us right off East McKellips Road in the same parking lot as Arby's. Feel free to contact us if you have any trouble finding our location.
1919 East McKellips Road, Suite 103

Mesa

,

AZ

85203
Hours of Operation
Monday

:

9:00 AM

–

5:00 PM

Tuesday

:

9:00 AM

–

6:00 PM

Wednesday

:

9:00 AM

–

6:00 PM

Thursday

:

9:00 AM

–

5:00 PM

Friday

:

9:00 AM

–

5:00 PM

Saturday

:

Closed

Sunday

:

Closed