Prioritizing Vision Care from a Young Age
Building good vision care habits start from a young age. At Experts on Sight, our team provides comprehensive eye exams to help your children learn about their eyes and vision.
We aim to instill good vision care habits in your children and help navigate visual issues that may interfere with their academic life and personal growth.
Are you looking to book an eye exam for your child? Contact us and schedule an appointment today.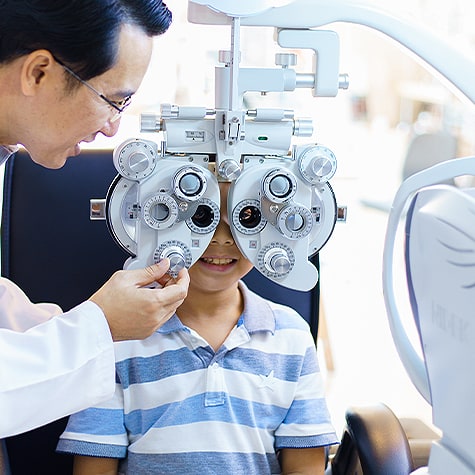 Importance of Early Eye Exams
While eye exams are used to determine your child's unique prescription for glasses or contact lenses, they also help our team monitor and diagnose developing vision problems and check for eye diseases.
Our team will check for refractive errors such as myopia (nearsightedness), hyperopia (farsightedness), and astigmatism during the exam. This time of visual development is crucial for your children, and proper vision care is essential.
If these visual issues go untreated, they can affect your child's development and interfere with learning inside and outside the classroom. When to Visit Us
Knowing when it's the right time for an eye exam can stress some parents out, and the right time depends on various factors such as age and visual needs. Children's vision is ever-changing and evolving, so monitoring their visual development is crucial.
The following eye exam frequency is recommended for children:
First exam at 6 to 12 months of age
At least 1 exam between 3 and 5 years of age
1 exam before first grade and annually from 6 through 17 years of age
Our team will conduct comprehensive vision testing during the exam to determine your child's prescription and explore myopia control methods if needed.
Our children's eye exam will test visual skills such as:
Eye tracking
Eye focusing
Eye teaming
Eye-hand coordination
Eye perception
Depending on your child's visual needs, additional exams and testing may be recommended outside the usual eye exam frequency.
Schedule Your Child's Next Eye Exam
At Experts on Sight, our goal is to assist your children on their visual development journey. We take pride in helping to build and maintain good vision care habits that your children can carry through adulthood.
Thinking it's time to book your child's next eye exam? Schedule your appointment today at Experts on Sight.

Gilbert
We're located just off Lindsay Road in the San Tan Professional Village, with plenty of parking out front. If you have trouble finding us, please give us a call.
3303 South Lindsay Road, Suite 101

Gilbert

,

AZ

85297
Hours of Operation
Monday

:

9:00 AM

–

5:00 PM

Tuesday

:

9:00 AM

–

6:00 PM

Wednesday

:

9:00 AM

–

6:00 PM

Thursday

:

8:00 AM

–

3:30 PM

Friday

:

9:00 AM

–

5:00 PM

Saturday

:

Closed

Sunday

:

Closed
Mesa
Find us right off East McKellips Road in the same parking lot as Arby's. Feel free to contact us if you have any trouble finding our location.
1919 East McKellips Road, Suite 103

Mesa

,

AZ

85203
Hours of Operation
Monday

:

9:00 AM

–

5:00 PM

Tuesday

:

9:00 AM

–

6:00 PM

Wednesday

:

9:00 AM

–

6:00 PM

Thursday

:

9:00 AM

–

5:00 PM

Friday

:

9:00 AM

–

5:00 PM

Saturday

:

Closed

Sunday

:

Closed