Protecting the Gift of Sight
Your vision plays an essential role in how you interact with the world, and our team wants to help ensure your eyes stay healthy for generations.
It's normal to notice changes in your vision as you age that can be easily corrected with glasses, contact lenses, or improving the lighting in your environment. But your risk for certain age-related eye conditions can also increase as you get older.
Many vision issues don't present noticeable signs and symptoms in the early stages, making it crucial to visit your eye doctor regularly. We can detect and treat potential eye diseases to help prevent vision loss.
Scheduling regular eye exams can help maintain the longevity of your vision. Book your next comprehensive eye exam today.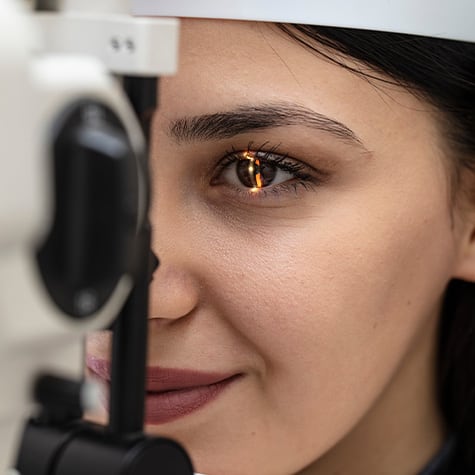 How Often Should You Visit the Eye Doctor?
Regular comprehensive eye exams are a vital part of maintaining healthy vision. Using diagnostic technology, our team at Experts on Sight can take an in-depth look at your eyes to detect potential eye conditions. The earlier we can catch an eye disease, the sooner we can provide effective treatment.
The American Optometric Association recommends eye exam frequency based on age:
Age 18–64: visit your eye doctor at least once every 2 years
Age 65+: visit your eye doctor annually
We may recommend more frequent eye exams, depending on your risk for developing eye disease. What We Assess During Your Eye Exam
A comprehensive eye exam covers more than just an updated prescription—we assess the entire health of your eye. Your eyes are an indicator of your overall health. In fact, a comprehensive eye exam can detect over 270 systemic health conditions.
During your appointment, you can expect us to:
Discuss medical history and current medications
Determine the sharpness of your vision
Check for eye diseases
Evaluate your color vision
Assess how well your eyes work together
We encourage you to ask us any questions you have along the way. Our team values providing information to our patients to help educate them about a diagnosis or treatment. We want to equip you with the tools needed to care for your vision and eye health.
Visit Us for Your Next Comprehensive Eye Exam
At Experts on Sight, our focus is our patients.
Rely on our friendly and knowledgeable team to help you achieve your best vision yet. Take care of your eye health by scheduling your next eye exam today. We look forward to getting to know you and your eyes.

Gilbert
We're located just off Lindsay Road in the San Tan Professional Village, with plenty of parking out front. If you have trouble finding us, please give us a call.
3303 South Lindsay Road, Suite 101

Gilbert

,

AZ

85297
Hours of Operation
Monday

:

9:00 AM

–

5:00 PM

Tuesday

:

9:00 AM

–

6:00 PM

Wednesday

:

9:00 AM

–

6:00 PM

Thursday

:

8:00 AM

–

3:30 PM

Friday

:

9:00 AM

–

5:00 PM

Saturday

:

Closed

Sunday

:

Closed
Mesa
Find us right off East McKellips Road in the same parking lot as Arby's. Feel free to contact us if you have any trouble finding our location.
1919 East McKellips Road, Suite 103

Mesa

,

AZ

85203
Hours of Operation
Monday

:

9:00 AM

–

5:00 PM

Tuesday

:

9:00 AM

–

6:00 PM

Wednesday

:

9:00 AM

–

6:00 PM

Thursday

:

9:00 AM

–

5:00 PM

Friday

:

9:00 AM

–

5:00 PM

Saturday

:

Closed

Sunday

:

Closed