Experienced Diabetic Vision Care
Diabetes is a complex condition to manage and can also affect your vision. At Experts on Sight, we offer diabetic eye examinations for patients managing diabetes.
Patients with diabetes may be at an increased risk of vision loss, and we use diagnostic technology to help detect and manage diabetes-related vision issues.
Managing diabetes can be challenging—our goal is to help manage your unique visual needs. Contact us to schedule an appointment and get your comprehensive eye exam today.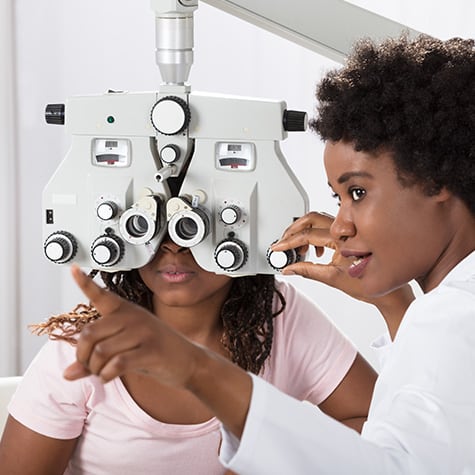 Diagnostic Technology at Experts on Sight
At Experts on Sight, we use diagnostic technology to get a clearer picture of your eyes. Consistent eye exams allow our team to monitor your visual development over time and detect possible vision issues.
Fundus Photography
Fundus photography is a diagnostic imaging tool used to record and receive color images of the interior surfaces of the eye.
These detailed images allow us to check for developing visual issues and how they develop over time. Fundus photography can be used to determine the effects of diabetic retinopathy on your eyes.
Specialized Eye Exams
At Experts on Sight, our team is well-trained and equipped to accommodate your unique vision needs. Our diabetic eye exams can help detect issues early and prepare a personalized treatment plan.
Book an appointment with us today and get a detailed look at how your vision works.

Gilbert
We're located just off Lindsay Road in the San Tan Professional Village, with plenty of parking out front. If you have trouble finding us, please give us a call.
3303 South Lindsay Road, Suite 101

Gilbert

,

AZ

85297
Hours of Operation
Monday

:

9:00 AM

–

5:00 PM

Tuesday

:

9:00 AM

–

6:00 PM

Wednesday

:

9:00 AM

–

6:00 PM

Thursday

:

8:00 AM

–

3:30 PM

Friday

:

9:00 AM

–

5:00 PM

Saturday

:

Closed

Sunday

:

Closed
Mesa
Find us right off East McKellips Road in the same parking lot as Arby's. Feel free to contact us if you have any trouble finding our location.
1919 East McKellips Road, Suite 103

Mesa

,

AZ

85203
Hours of Operation
Monday

:

9:00 AM

–

5:00 PM

Tuesday

:

9:00 AM

–

6:00 PM

Wednesday

:

9:00 AM

–

6:00 PM

Thursday

:

9:00 AM

–

5:00 PM

Friday

:

9:00 AM

–

5:00 PM

Saturday

:

Closed

Sunday

:

Closed